Detective Kubu Series
Facets of Death (Detective Kubu #7)
A prequel to the Detective Kubu series. Detective Sergeant Davi 'Kubu' Bengu joins the Botswana Police Service Criminal Investigation Department as a new graduate of the University of Botswana. What happens there is not what he expects.
Publication date late 2019/early 2020.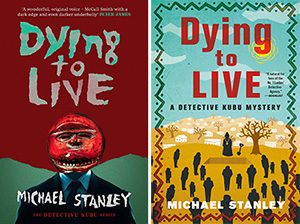 Dying to Live (Detective Kubu #6)
When the body of a Bushman is discovered near the Central Kalahari Game Reserve, the death is written off as an accident. But all is not as it seems. An autopsy reveals that, although he's clearly very old, his internal organs are puzzlingly young. What's more, an old bullet is lodged in one of his muscles—but there is no entry wound.
When the body is stolen from the morgue, and a local witch doctor, famous for peddling a potion to extend life, is reported missing, Detective "Kubu" Bengu gets involved. Were the two events related? And was an American anthropologist who'd befriended the old Bushman involved?
As Kubu and his brilliant young colleague, Detective Samantha Khama, follow the twisting trail through a confusion of rhino-horn smugglers, foreign gangsters and drugs manufacturers, the wider and more dangerous the case seems to grow.
A fresh, new slice of Sunshine Noir, Dying to Live is a classic tale of greed, corruption, and ruthless thuggery, set in one of the world's most beautiful landscapes, and featuring one of crime fiction's most endearing and sympathetic heroes.
Europe/Africa:
U.S.: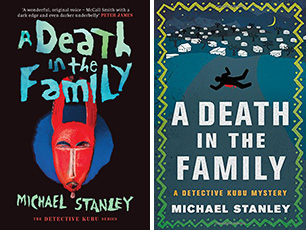 A Death in the Family (Detective Kubu #5)
"There's no easy way to say this, Kubu. Your father's dead. I'm afraid he's been murdered."
Faced with the violent death of his own father, even Assistant Superintendent David "Kubu" Bengu, Botswana CID's keenest mind, is baffled. Who would kill such a frail old man? The picture becomes even murkier with the apparent suicide of a government official. Are Chinese mine-owners involved? And what role does the US Embassy have to play?
Set amidst the dark beauty of modern Botswana, A Death in the Family is a thrilling insight into a world of riots, corruption and greed, as a complex series of murders present the opera-loving, wine connoisseur detective with his most challenging case yet. When grief-stricken Kubu defies orders and sets out on the killers' trail, startling and chilling links emerge, spanning the globe and setting a sequence of shocking events in motion. Will Kubu catch the killers in time… and find justice for his father?
Europe/Africa:
U.S.:
Deadly Harvest (Detective Kubu #4)
Deadly Harvest tracks a series of murders and a mysterious witch doctor whose nefarious potions might hold the key to a web of missing persons.
When young girls start to go missing, Samantha, a new detective on the Botswana police force suspects that muti, a traditional African medicine, is the reason. She and Detective David "Kubu" Bengu race to stop a serial killer, all as the father of one of the victims threatens to take matters into his own hands.
Weaving together a thrilling mystery with a fascinating look at modern-day Africa, Deadly Harvest is filled with elements suspense and plot twists that will keep you captivated until the very end.
Europe/Africa:
U.S.: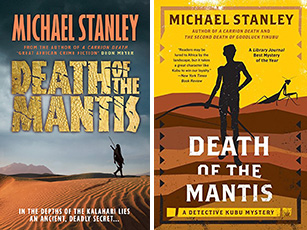 The Death of the Mantis (Detective Kubu #3)
In the southern Kalahari area of Botswana—an arid landscape of legends that speak of lost cities, hidden wealth, and ancient gods—a fractious ranger named Monzo is found dying from a severe head wound in a dry ravine. Three Bushmen surround the doomed man, but are they his killers or there to help? Detective David "Kubu" Bengu is on the case, an investigation that his old school friend Khumanego claims is motivated by racist antagonism on the part of the local police. But when a second bizarre murder, and then a third, seem to point also to the nomadic tribe, the intrepid Kubu must journey into the depths of the Kalahari to uncover the truth. What he discovers there will test all his powers of detection… and his ability to remain alive.
Europe/Africa:
U.S.: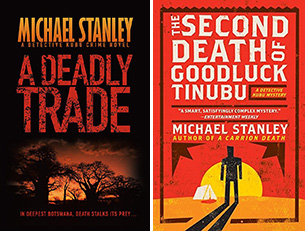 A Deadly Trade (U.K.) a.k.a. The Second Death of Goodluck Tinubu (U.S.) (Detective Kubu #2)
When a mutilated body is found at a tourist camp in northern Botswana, the corpse displays the classic signs of a revenge killing. But when fingerprints are analysed, Detective "Kubu" Bengu makes a shocking discovery: the victim is already dead. He was slain in the Rhodesian war thirty ago. Kubu soon realises that nothing at the camp is as it seems. And as the guests are picked off one by one, time is running out. With rumours of horrifying war crimes, the scent of a drug-smuggling trail and mounting pressure from his superiors to contend with, Kubu forgets there is one door left unguarded—his own. And as he sets a trap to find a murderer, the hunters are closing in on him…
Europe/Africa:
U.S.: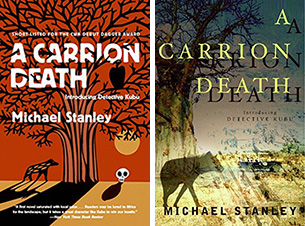 A Carrion Death (Detective Kubu #1)
Smashed skull, snapped ribs, and a cloying smell of carrion. Leave the body for the hyenas to devour—no body, no case.
But Kalahari game rangers stumble on the human corpse mid-meal. The murder wasn't perfect after all. Enter Detective David "Kubu" Bengu of the Botswana Criminal Investigation Department, an investigator whose personality and physique match his moniker, the Setswana word for hippopotamus—which is a seemingly docile beast, but one of the deadliest, and most persistent, on the continent.
Beneath a mountain of lies and superstitions, Kubu uncovers a chain of crimes leading to the most powerful figures in the country—cold-bloodedly efficient and frighteningly influential enemies who can make anyone who gets in their way disappear.
Europe/Africa:
U.S.:
A Taste of Africa: A KUkBUk
This cookbook is a collection of southern Africa recipes that are favorites of Detective Kubu. The book covers special drinks from southern Africa and a number of recipes for appetizers. There is a collection of main courses that are popular in the region—and favorites of Kubu—but may be unusual and exotic for western cooks. Finally several interesting desserts that make Kubu's mouth water. A Taste of Africa also has some fun information about Kubu's eating and drinking habits and ideas about diet, and great sketches of Kubu at "work"! The recipes in the KUkBUk have been tried and tested on friends from different countries and pronounced delicious. We enjoy them regularly. Try them out for something a bit different and interesting. Have fun cooking and bon appetit!
Detective Kubu Investigates
This is a collection of the Michael Stanley short stories about Detective Kubu.
Twenty-first century Botswana is a country with real issues and real murders. In this collection of stories—one never previously published—Kubu investigates three mysterious deaths. A man is stabbed outside a bar. Is it just a jealous fight or is there something much more sinister behind it? A man suffers a gruesome death in a country town. Is it the result of witchcraft, or could there be another cause? A policeman is shot dead at close range in his own home. Is it the colleagues of a man he killed who was resisting arrest? And what of his wife's alibi? In the last story of the collection, "The Haunting," a very unusual detective in South Africa solves a strange disappearance and fraud in a most unconventional way.
Kubu has to investigate a murder at a neighborhood bar. At first it seems to be a case of a drunken brawl but some aspects don't add up. And when it turns out the victim has just had a big win at the casino, Kubu knows that there's more to it than meets the eye…
"An Issue of Women and Money" appears in Once Upon A Crime—an anthology of murder, mayhem and suspense, edited by Gary Bush & Chris Everheart and published by Nodin Press.
If you would like to read the story, click on the title above to download a PDF.
Two neighbours in a small rural village in Botswana are always feuding. Barking dogs, trespassing goats, whatever. When one dies a sudden and mysterious death, the villagers suspect witchcraft and threaten to take the law into their own hands. Kubu doesn't have long to solve the case.
"Neighbours" appears in an anthology of short stories by South African crime writers entitled Bad Company, edited by Joanne Hichens and published by Pan MacMillan.
If you would like to read the story, click on the title above to download a PDF.