Shoot the Bastards out in early June
.

..an extraordinary tale… – C J Box
Our stand-alone thriller, Shoot the Bastards (Dead of Night outside North America) will hit the bookstores on June 11. Of course, you can pre-order it from your usual sources. For more information about it, read the summary further down the page.
C J Box writes about it: "From Minnesota to South Africa to Mozambique to Vietnam, Michael Stanley's SHOOT THE BASTARDS is an extraordinary tale of the extreme measures taken to combat international poaching and smuggling."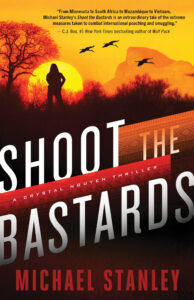 Win a rhino!
Be one of four people to win a prize. First prize is a beautiful, carved rhino from South Africa. The second prize is a surprise, and third and fourth prizes are a signed, first-edition hardcover of  our first Detective Kubu mystery, A Carrion Death! 
Email or mail us a copy of your receipt for buying Shoot the Bastards together with your mailing and email addresses. You will go into a draw for one of these prizes! Entries must be received by midnight, July 31, 2019.
Email: michaelstanley@michaelstanleybooks.com
Mail: Stanley Trollip, 111 Marquette Avenue, Apt 1702, Minneapolis MN 55401, USA.
Welcome to our new website!
Our new email address is michaelstanley@michaelstanleybooks.com, replacing the original detectivekubu.com email addresses. Please make note of the change. Our Facebook and Twitter accounts remain the same. They are shown in real time on the right of this page, as is a link to our blog murderiseverywhere.blogspot.com, where ten well-known authors share their thoughts on just about everything. Join over 1000 people a day who visit it.
In order to comply with current privacy regulations, if you haven't filled out the form on the right to join our mailing list, we ask you to do so. It will probably take no more than 30 seconds of your time. To thank you, you will be able to download one of our recent short stories, Spirits, that appeared in the Sunshine Noir anthology.
Thank you so much for your support.
Dead of Night (U.K. & South Africa) a.k.a. Shoot The Bastards (U.S.)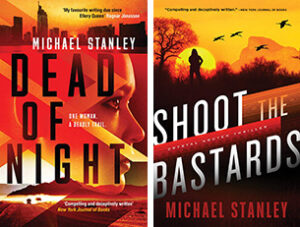 U.K. & South Africa: Available Now / U.S.: Coming in June 2019 
When her friend Michael Davidson goes missing while researching a National Geographic story on rhino poaching and rhino-horn smuggling, investigative journalist Crystal Nguyen heads to Africa to try to find him and to finish his story. But within a week she's been hunting poachers, been hunted by their bosses, and been arrested in connection with a murder. And everyone is after a briefcase full of money that she doesn't want, but can't safely get rid of. She comes to realise how little she knows about Africa and war between the poachers and the conservation officers.
What she does know is that she's determined to find Michael and that she's committed to preventing a planned major operation in South Africa to secure a huge number of rhino horns. She goes undercover in Vietnam, trying to discover the truth before she's exposed by the local mafia. Discovering the plot behind the money is only half the battle. Now she must convince the South African authorities to take action before it's too late, both for the rhinos and for her.
In this stand-alone thriller, Michael Stanley, author of the award-winning Detective Kubu mystery series, introduces an intriguing new protagonist, and at the same time exposes one of the most vicious conflicts of southern Africa with its Asian puppet-masters.
Europe/Africa:
U.S.:
Also Available: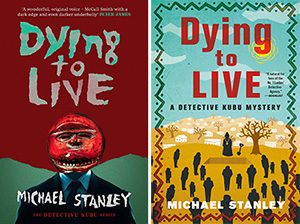 Dying to Live, the latest Detective Kubu novel
When the body of a Bushman is discovered near the Central Kalahari Game Reserve, the death is written off as an accident. But all is not as it seems. An autopsy reveals that, although he's clearly very old, his internal organs are puzzlingly young. What's more, an old bullet is lodged in one of his muscles—but there is no entry wound.
When the body is stolen from the morgue, and a local witch doctor, famous for peddling a potion to extend life, is reported missing, Detective "Kubu" Bengu gets involved. Were the two events related? And was an American anthropologist who'd befriended the old Bushman involved?
As Kubu and his brilliant young colleague, Detective Samantha Khama, follow the twisting trail through a confusion of rhino-horn smugglers, foreign gangsters and drugs manufacturers, the wider and more dangerous the case seems to grow.
A fresh, new slice of Sunshine Noir, Dying to Live is a classic tale of greed, corruption, and ruthless thuggery, set in one of the world's most beautiful landscapes, and featuring one of crime fiction's most endearing and sympathetic heroes.
Europe/Africa:
U.S.: