Welcome to our new website!
New email address: michaelstanley@michaelstanleybooks.com
Our Facebook and Twitter accounts remain the same. They are shown in real time on the right of this page, as is a link to our blog murderiseverywhere.blogspot.com, where ten well-known authors share their thoughts on just about everything. Join over 1000 people a day who visit it.
Please join our mailing list.
Just fill out the form on the right. It will probably take no more than 30 seconds of your time. To thank you, you will be able to download one of our recent short stories, Spirits, that appeared in the Sunshine Noir anthology.
Thank you so much for your support.
A NEW KUBU MYSTERY
Poisoned Pen Press and Sourcebooks will release the seventh Detective Kubu mystery, FACETS OF DEATH, in North America on January 7, 2020.
As both of us will be in southern Africa researching our next book, we won't have our usual book-launch party at the Once Upon A Crime bookstore in Minneapolis.
Get it personalised!
We know many of our readers like to have personalised, signed copies. So, we have made an arrangement with Once Upon A Crime to personalise any copies bought through the bookstore before December 31, either online or at the store. We have already signed a good stock of books, and Stanley will go to the store before he leaves for South Africa on January 2 to take care of requests. If you order online, please use the comment section to indicate how you want the book inscribed.
Buy from Once Upon a Crime here: https://onceuponacrimebooks.indielite.org/book/9781464211270
Early reviews
We were thrilled to get a starred review from Bruce Tierney in BookPage, who wrote: "Facets of Death is easily one of the best heist novels I've read since Gerald Browne's classic 11 Harrowhouse."
Jane Murphy of Booklist wrote "…between Kubu and Alexander McCall Smith's Precious Ramotswe, the tradition of botho, humility, dignity, courtesy, and respect for others is upheld in all its richness, which makes for a reaffirming read every time."
Finally, Publishers Weekly wrote "Entertaining…Series followers will enjoy the backstory."
Dead of Night (U.K. & South Africa) a.k.a. Shoot The Bastards (U.S.)
C J Box writes about it: "From Minnesota to South Africa to Mozambique to Vietnam, Michael Stanley's SHOOT THE BASTARDS is an extraordinary tale of the extreme measures taken to combat international poaching and smuggling."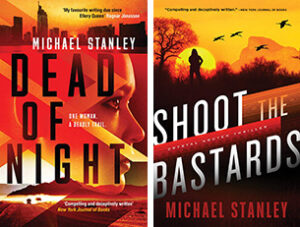 When her friend Michael Davidson goes missing while researching a National Geographic story on rhino poaching and rhino-horn smuggling, investigative journalist Crystal Nguyen heads to Africa to try to find him and to finish his story. But within a week she's been hunting poachers, been hunted by their bosses, and been arrested in connection with a murder. And everyone is after a briefcase full of money that she doesn't want, but can't safely get rid of. She comes to realise how little she knows about Africa and war between the poachers and the conservation officers.
What she does know is that she's determined to find Michael and that she's committed to preventing a planned major operation in South Africa to secure a huge number of rhino horns. She goes undercover in Vietnam, trying to discover the truth before she's exposed by the local mafia. Discovering the plot behind the money is only half the battle. Now she must convince the South African authorities to take action before it's too late, both for the rhinos and for her.
In this stand-alone thriller, Michael Stanley, author of the award-winning Detective Kubu mystery series, introduces an intriguing new protagonist, and at the same time exposes one of the most vicious conflicts of southern Africa with its Asian puppet-masters.
Europe/Africa:
U.S.:
Reviews
"Dead of Night is a book the world needs. It's a crime novel with a difference. Unlike your usual crime novel, where you can usually figure out who's committed the crime towards the end, Dead of Night throws you off at every turn. Drawing you into a sea of deceit that, by the tie you realise you're fully submerged, the darkness has you firmly in its grasp." — Dan Stubbings, The Dimension Between Worlds blog
'…an entertaining page-turner. Readers will look forward to the sequel." — Publishers Weekly
"I love Crys Nguyen, an intrepid environmentalist, qick thinking and fearless. Although tiny, she fights way above her weight. With a bit of karate and a deep commitment to yoga and meditation, she is a young woman after my own heart. I can't wait to see what she gets herself mixed up in next time out." — Susan Hoover, reviewingtheevidence.com
"It's an enthralling, immersive read that won't disappoint." — Promoting Crime Fiction
"This story is brutal, brilliant and utterly breath-taking, my favourite of this writing duo so far…..Totally stunning in every sense of the word." — Books from Dusk Till Dawn
I don't think I caught my breath properly the whole time I was reading it. It is the best thriller that I have read in a long while." — A Little Book Problem blog
Also Available: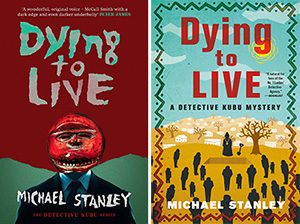 Dying to Live, the latest Detective Kubu novel
When the body of a Bushman is discovered near the Central Kalahari Game Reserve, the death is written off as an accident. But all is not as it seems. An autopsy reveals that, although he's clearly very old, his internal organs are puzzlingly young. What's more, an old bullet is lodged in one of his muscles—but there is no entry wound.
When the body is stolen from the morgue, and a local witch doctor, famous for peddling a potion to extend life, is reported missing, Detective "Kubu" Bengu gets involved. Were the two events related? And was an American anthropologist who'd befriended the old Bushman involved?
As Kubu and his brilliant young colleague, Detective Samantha Khama, follow the twisting trail through a confusion of rhino-horn smugglers, foreign gangsters and drugs manufacturers, the wider and more dangerous the case seems to grow.
A fresh, new slice of Sunshine Noir, Dying to Live is a classic tale of greed, corruption, and ruthless thuggery, set in one of the world's most beautiful landscapes, and featuring one of crime fiction's most endearing and sympathetic heroes.
Europe/Africa:
U.S.: