Click here for information about the Detective Kubu series.
Dead of Night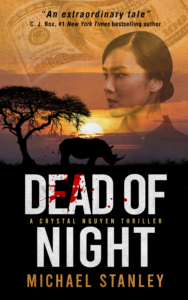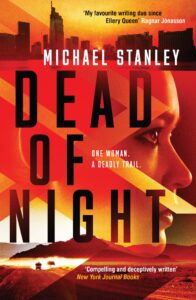 When her friend Michael Davidson goes missing while researching a National Geographic story on rhino poaching and rhino-horn smuggling, investigative journalist Crystal Nguyen heads to Africa to try to find him and to finish his story. But within a week she's been hunting poachers, been hunted by their bosses, and been arrested in connection with a murder. And everyone is after a briefcase full of money that she doesn't want, but can't safely get rid of. She comes to realize how little she knows about Africa and war between the poachers and the conservation officers.
What she does know is that she's determined to find Michael and that she's committed to preventing a planned major operation in South Africa to secure a huge number of rhino horns. She goes undercover in Vietnam, trying to discover the truth before she's exposed by the local mafia. Discovering the plot behind the money is only half the battle. Now she must convince the South African authorities to take action before it's too late, both for the rhinos and for her.
In this stand-alone thriller, Michael Stanley, author of the award-winning Detective Kubu mystery series, introduces an intriguing new protagonist, and at the same time exposes one of the most vicious conflicts of southern Africa with its Asian puppet-masters.
Europe/Africa:
U.S.: