Detective Kubu Series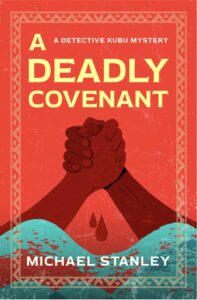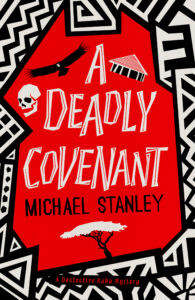 A Deadly Covenant (Detective Kubu #8)
A Deadly Covenant is a prequel to the series and flashes back to Kubu's early career with the Botswana CID. It is set in the evocative Okavango Delta in Northern Botswana, with its lush vegetation, sweeping waterways, abundant wildlife, and compelling African cultural heritage. Local mythology and superstition entwine with socio-political and geo-political themes to make for a satisfyingly immersive mystery that begs resolution until the last, unpredictable moment.
While digging a trench for a new water project, a backhoe operator unearths the skeleton of a long dead Bushman. Kubu and Scottish pathologist, Ian MacGregor, are sent to sort out the formalities, but the situation rapidly gets out of hand. MacGregor discovers eight more skeletons—a massacre of Bushmen including women and children. However, the locals deny any knowledge of the event.
When an elder of the village is murdered at his home, the local police believe it was the result of a robbery gone wrong. Kubu thinks otherwise. So does an elderly woman who believes it was the work of Mami Wata, a powerful river spirit. When she dies in an apparent crocodile attack, suspicions rise. Things become still more complicated when a mysterious Bushman appears at the massacre site, collapses, then disappears again, but seems connected to the murders in some way. Kubu's boss, Assistant Superintendent Mabaku, joins them as accusations of corruption are levelled at the water project, and international anger over the massacre of the Bushman families builds. But how do the recent murders link to the dead Bushmen? As they investigate, they uncover a deadly covenant made many years before by an unknown group, and they begin to fear that their own lives may be in danger.
Europe/Africa/Australia:
U.S.:
Facets of Death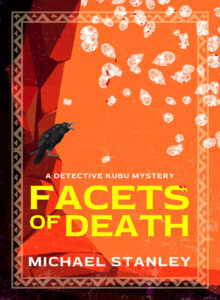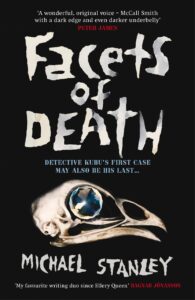 Facets of Death is a prequel. In the previous books, Kubu is the senior detective in the Criminal Investigation Department in Gaborone. A large man — as his nickname Kubu (hippopotamus) suggests – he investigates complex murder cases with southern African backstories.
Facets of Death is set in the late 1990s when Kubu first joins the Botswana CID as a raw detective. While he's trying to be accepted by the current staff and to make a role for himself in the CID, a massive diamond heist takes place on the road from Jwaneng — home of the world's richest diamond mine.
It's immediately clear that this is no opportunistic robbery. The mine has a complicated security scheme in place, and Kubu and his boss, Assistant Superintendent Mabaku, immediately suspect an inside job. The robbers systematically eliminate all the witnesses, and then they are killed by the South African police, leaving the detectives with nothing to go on. Everyone who knew the mine's security plan is a possible suspect, including the director of the CID and the owners of the mine. And Mabaku and Kubu can't even trust the South African Police – maybe they grabbed the gems after they shot the robbers.
Kubu and Mabaku are sure they can solve the case if only their contacts can stay alive long enough to point them in the right direction. However, when one of the mine's senior managers becomes the next victim, they're forced to set a trap for the crime's mastermind. If it fails, their careers are over – in Kubu's case before it's even begun.
Buy a signed edition from Once Upon a Crime.


Listen to the audiobook superbly read by Ben Onwukwe

Europe/Africa:
U.S.: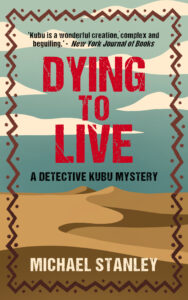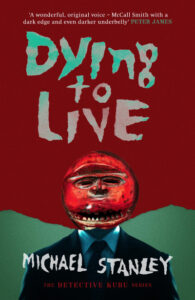 Dying to Live (Detective Kubu #6)
When the body of a Bushman is discovered near the Central Kalahari Game Reserve, the death is written off as an accident. But all is not as it seems. An autopsy reveals that, although he's clearly very old, his internal organs are puzzlingly young. What's more, an old bullet is lodged in one of his muscles—but there is no entry wound.
When the body is stolen from the morgue, and a local witch doctor, famous for peddling a potion to extend life, is reported missing, Detective "Kubu" Bengu gets involved. Were the two events related? And was an American anthropologist who'd befriended the old Bushman involved?
As Kubu and his brilliant young colleague, Detective Samantha Khama, follow the twisting trail through a confusion of rhino-horn smugglers, foreign gangsters and drugs manufacturers, the wider and more dangerous the case seems to grow.
A fresh, new slice of Sunshine Noir, Dying to Live is a classic tale of greed, corruption, and ruthless thuggery, set in one of the world's most beautiful landscapes, and featuring one of crime fiction's most endearing and sympathetic heroes.
Europe/Africa:
U.S.: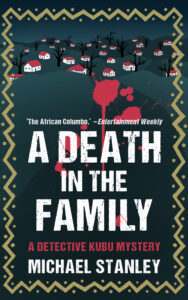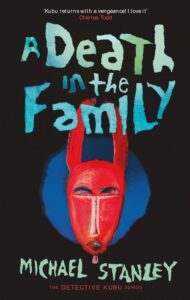 A Death in the Family (Detective Kubu #5)
"There's no easy way to say this, Kubu. Your father's dead. I'm afraid he's been murdered."
Faced with the violent death of his own father, even Assistant Superintendent David "Kubu" Bengu, Botswana CID's keenest mind, is baffled. Who would kill such a frail old man? The picture becomes even murkier with the apparent suicide of a government official. Are Chinese mine-owners involved? And what role does the US Embassy have to play?
Set amidst the dark beauty of modern Botswana, A Death in the Family is a thrilling insight into a world of riots, corruption and greed, as a complex series of murders present the opera-loving, wine connoisseur detective with his most challenging case yet. When grief-stricken Kubu defies orders and sets out on the killers' trail, startling and chilling links emerge, spanning the globe and setting a sequence of shocking events in motion. Will Kubu catch the killers in time… and find justice for his father?
Europe/Africa:
U.S.: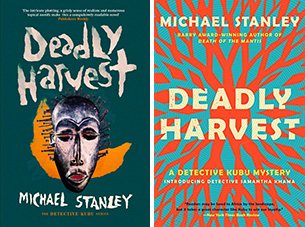 Deadly Harvest (Detective Kubu #4)
Deadly Harvest tracks a series of murders and a mysterious witch doctor whose nefarious potions might hold the key to a web of missing persons.
When young girls start to go missing, Samantha, a new detective on the Botswana police force suspects that muti, a traditional African medicine, is the reason. She and Detective David "Kubu" Bengu race to stop a serial killer, all as the father of one of the victims threatens to take matters into his own hands.
Weaving together a thrilling mystery with a fascinating look at modern-day Africa, Deadly Harvest is filled with elements suspense and plot twists that will keep you captivated until the very end.
Europe/Africa:
U.S.: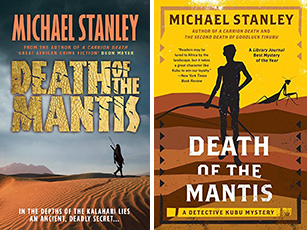 The Death of the Mantis (Detective Kubu #3)
In the southern Kalahari area of Botswana—an arid landscape of legends that speak of lost cities, hidden wealth, and ancient gods—a fractious ranger named Monzo is found dying from a severe head wound in a dry ravine. Three Bushmen surround the doomed man, but are they his killers or there to help? Detective David "Kubu" Bengu is on the case, an investigation that his old school friend Khumanego claims is motivated by racist antagonism on the part of the local police. But when a second bizarre murder, and then a third, seem to point also to the nomadic tribe, the intrepid Kubu must journey into the depths of the Kalahari to uncover the truth. What he discovers there will test all his powers of detection… and his ability to remain alive.
Europe/Africa:
U.S.: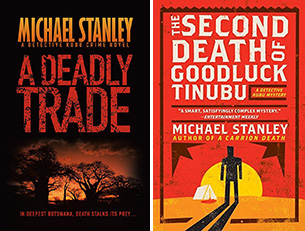 A Deadly Trade (U.K.) a.k.a. The Second Death of Goodluck Tinubu (U.S.) (Detective Kubu #2)
When a mutilated body is found at a tourist camp in northern Botswana, the corpse displays the classic signs of a revenge killing. But when fingerprints are analysed, Detective "Kubu" Bengu makes a shocking discovery: the victim is already dead. He was slain in the Rhodesian war thirty ago. Kubu soon realises that nothing at the camp is as it seems. And as the guests are picked off one by one, time is running out. With rumours of horrifying war crimes, the scent of a drug-smuggling trail and mounting pressure from his superiors to contend with, Kubu forgets there is one door left unguarded—his own. And as he sets a trap to find a murderer, the hunters are closing in on him…
Europe/Africa:
U.S.: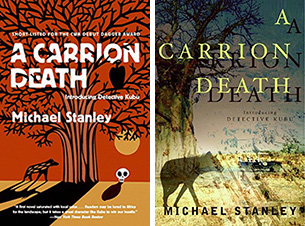 A Carrion Death (Detective Kubu #1)
Smashed skull, snapped ribs, and a cloying smell of carrion. Leave the body for the hyenas to devour—no body, no case.
But Kalahari game rangers stumble on the human corpse mid-meal. The murder wasn't perfect after all. Enter Detective David "Kubu" Bengu of the Botswana Criminal Investigation Department, an investigator whose personality and physique match his moniker, the Setswana word for hippopotamus—which is a seemingly docile beast, but one of the deadliest, and most persistent, on the continent.
Beneath a mountain of lies and superstitions, Kubu uncovers a chain of crimes leading to the most powerful figures in the country—cold-bloodedly efficient and frighteningly influential enemies who can make anyone who gets in their way disappear.
Europe/Africa:
U.S.:
A Taste of Africa: A KUkBUk
This cookbook is a collection of southern Africa recipes that are favorites of Detective Kubu. The book covers special drinks from southern Africa and a number of recipes for appetizers. There is a collection of main courses that are popular in the region—and favorites of Kubu—but may be unusual and exotic for western cooks. Finally several interesting desserts that make Kubu's mouth water. A Taste of Africa also has some fun information about Kubu's eating and drinking habits and ideas about diet, and great sketches of Kubu at "work"! The recipes in the KUkBUk have been tried and tested on friends from different countries and pronounced delicious. We enjoy them regularly. Try them out for something a bit different and interesting. Have fun cooking and bon appetit!