African mysteries & thrillers worth reading
Here's our choice of the best African Noir Thrillers and why we chose them. Take a look:
https://shepherd.com/best-books/african-noir-thrillers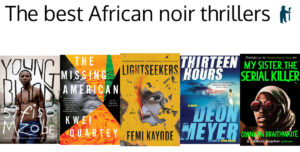 Africa Scene
Michael writes a monthly column Africa Scene in the International Thriller Writers emagazine The Big Thrill in which he interviews a contemporary writer who is African or whose setting is Africa.
Book of the Month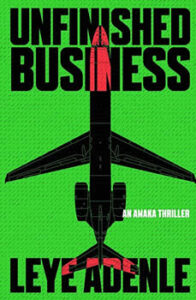 Leye Adenle has a gripping thriller series going featuring Amaka who helps sex workers avoid physical danger and exploitation. In the latest book, one of them, Funke, inadvertently witnesses the murder of the leader of a wealthy church and his wife.  Amaka catches the next plane to Lagos, but the murders are more complex than she imagines—$100 million in ill-gotten cash is missing, and everyone wants to lay their hands on it or on anyone who can point them in the right direction. That now includes Amaka and, of course, Funke…
You can read about the book and Leye's writing in this month's ITW Africa Scene.
Goodreads
Take a look at, or follow, our Goodreads page for our reviews and thoughts about (mainly) African mysteries and thrillers here.
Agatha Christie
Learn about Agatha's time in Africa (and the African thriller that came out of it) from our presentation with Bryony Rheam:
Agatha Christie loved to explore and made a trip to South Africa and (the then) Southern Rhodesia before the British Empire Exhibition. Her thriller The Man in the Brown Suit came out of that trip to Africa. So did her lifelong love of surfing. You can hear the whole story in this presentation from the 2022 Agatha Christie International Festival with us and Bryony Rheam from Zimbabwe:
Elspeth Huxley
One of the earliest writers of mysteries set in Africa was Elspeth Huxley (of Flame Trees of Thika fame). She wrote three mysteries in the 1930s.
Murder at Government House (1937)
Murder on Safari (1938)
Death of an Aryan (USA); The African Poison Murders (1939)
James McClure
James McClure was a South African journalist who left his homeland for the United Kingdom because of apartheid. He wrote a wonderful series featuring Afrikaner Lieutenant Tromp Kramer and Zulu Detective Sergeant Mickey Zondi. Several of his books were banned in South Africa because this police team was multi-racial.
The Steam Pig (1971)
The Caterpillar Cop (1972)
The Gooseberry Fool (1974)
Snake (1975)
The Sunday Hangman (1977)
The Blood of an Englishman (1980)
The Artful Egg (1984)
He also wrote a delightful thriller set in Lesotho.