African mysteries & thrillers worth reading
Here's our choice of the best recent Southern African Mystery/Thrillers. Michael discusses with Sophie Roell what they're about and why we chose them. Take a look: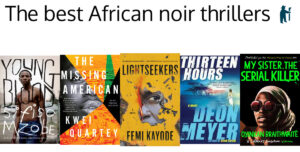 Africa Scene
Michael writes a monthly column Africa Scene in the International Thriller Writers emagazine The Big Thrill in which he interviews a contemporary writer who is African or whose setting is Africa.
Book of the Month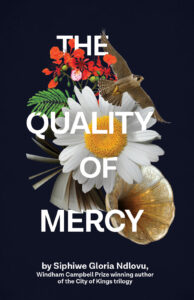 Siphiwe Ndlovu is a writer, filmmaker and academic who holds a PhD in Modern Thought and Literature from Stanford University, as well as master's degrees in African Studies and Film from Ohio University. She was born in Bulawayo, Zimbabwe. Her first novel, The Theory of Flight won the Barry Ronge Fiction Prize in South Africa. In 2022, Ndlovu was awarded a Windham-Campbell Prize for Fiction. In 2023, her story The Postman in the Yale Review, based on a character in THE QUALITY OF MERCY, was a finalist for the American Society of Magazine Editors Award.
You can read about the book and Siphiwe's writing in this month's ITW Africa Scene.
Goodreads
Take a look at, or follow, our Goodreads page for our reviews and thoughts about (mainly) African mysteries and thrillers here.
Agatha Christie
Learn about Agatha's time in Africa (and the African thriller that came out of it) from our presentation with Bryony Rheam:
Agatha Christie loved to explore and made a trip to South Africa and (the then) Southern Rhodesia before the British Empire Exhibition. Her thriller The Man in the Brown Suit came out of that trip to Africa. So did her lifelong love of surfing. You can hear the whole story in this presentation from the 2022 Agatha Christie International Festival with us and Bryony Rheam from Zimbabwe:
Elspeth Huxley
One of the earliest writers of mysteries set in Africa was Elspeth Huxley (of Flame Trees of Thika fame). She wrote three mysteries in the 1930s.
Murder at Government House (1937)
Murder on Safari (1938)
Death of an Aryan (USA); The African Poison Murders (1939)
James McClure
James McClure was a South African journalist who left his homeland for the United Kingdom because of apartheid. He wrote a wonderful series featuring Afrikaner Lieutenant Tromp Kramer and Zulu Detective Sergeant Mickey Zondi. Several of his books were banned in South Africa because this police team was multi-racial.
The Steam Pig (1971)
The Caterpillar Cop (1972)
The Gooseberry Fool (1974)
Snake (1975)
The Sunday Hangman (1977)
The Blood of an Englishman (1980)
The Artful Egg (1984)
He also wrote a delightful thriller set in Lesotho.